E-ISSN 2218-6050
|
ISSN 2226-4485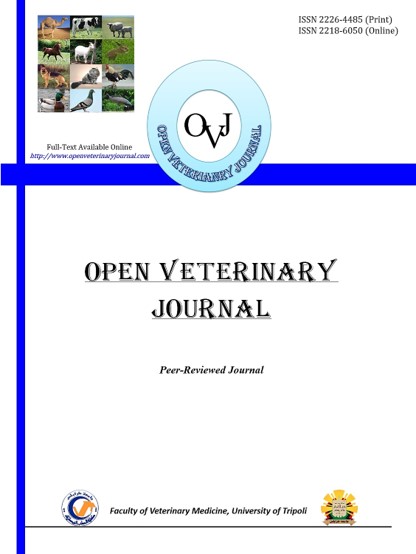 Open Vet J. Year: 2021, Volume: 11, Issue: 1
Case Report

Severe pneumonia in a street rat (Rattus norvegicus) caused by Rodentibacter rarus strain RMC2



Clinical, anatomopathological and immunohistochemical findings of a transitional cell carcinoma from nasal cavity, frontal and ethmoidal sinus with meningoencephalic invasion in a dog



Cardiomyopathy in a dog with multicentric lymphoma following treatment with several anthracyclines



The Occurrence of Osteosarcoma after Tibial Fracture Repair in a Dog




Review Article

Open-heart techniques and mitral valve plasty for mitral regurgitation in toy- and small-breed dogs: A review




Original Article

Distribution of injectates in the thoracic paravertebral space of the dog and cat: a cadaveric study




Short Communication

The Bioavailability of Cytarabine in Dogs with Meningoencephalitis of Unknown Etiology through Iontophoresis and Rectal Delivery



Vasoactive Intestinal Peptide in Canine Portosystemic Shunt in the Absence of Portal Hypertension




Original Article

Molecular Characterization of Duck Plague Virus from selected Haor (Wetland) areas of Bangladesh



ELECTROACUPUNCTURE ANAESTHESIA FOR LAPAROTOMY IN GOATS



Green Coffea robusta (Coffea canephora) from Lampung Province Effect Towards Free Radicals in chickens infected with Salmonella enteritidis Bacteria



Low semen quality and testes histological adverse changes in adult male mice treated with bee venom (Apis mellifera)



Flea and tick treatment satisfaction, preference, and adherence of U.S. cat owners prescribed topical fluralaner (Bravecto® Topical Solution for Cats)




Case Report

Use of a circular fixator construct to facilitate closed reduction and percutaneous stabilization of a distal femoral physeal fracture in a dog



Rabies in Bovine: First Case Report of Rabies in Al Jabal Al Akhdar– Libya




Original Article

Evaluation of electrochemotherapy in the management of anal sac apocrine gland adenocarcinomas in dogs: a retrospective study



Little Brainiacs and Big Dummies: are we selecting for stupid, stout or small dogs?



Histological study of the gonads tissues adult stage (male and female) Artemia salina (Linnaeus 1758) and Immunohistochemistry-IHC by Caspase 3 and HSP70 to detect specific apoptosis markers on gonads tissue after exposure to TBTCl




Case Report

A-scan Biometry, Phacoemulsification and Foldable Intraocular Lens Implantation in a Young Orangutan (Pongo pygmaeus)




Review Article

The treatment of articular cartilage injuries with mesenchymal stem cells in different animal species




Original Article

Epizootic situation of Aujeszky disease on the territory of the Republic of Kazakhstan



Factors associated with survival in dogs with a histopathological diagnosis of hepatocellular carcinoma: 94 cases (2007-2018)



THERAPEUTIC EQUIVALENCE OF IVERMECTIN 1 % AND TWO NOVEL FORMULATIONS COMBINED OF IVERMECTIN 1% + FLUAZURON 12.5 % FOR THE CONTROL OF RHIPICEPHALUS (BOOPHILUS) MICROPLUS IN URUGUAY



Bronchoalveolar lavage fluid cytological findings in healthy Amiata donkeys



Isolation and Identification of Mycoplasma mycoides subsp. mycoides in Cattle from South-East Nigeria.